The CIP Role
Students are supported on-site by our Program Partners' expert staff, who are knowledgeable about local culture. The Center for International Programs continues to have contact with our study abroad students throughout their time away. Registration processes, housing selection and campus updates keep our study abroad students part of our on-campus community.

A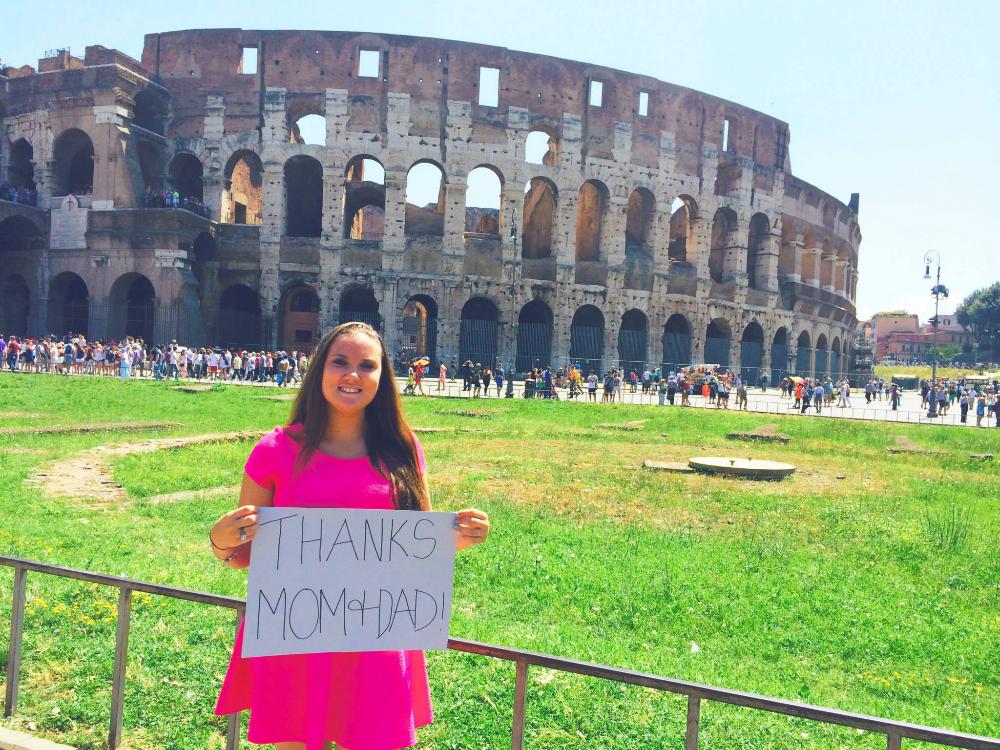 rrival Day
Parents are often concerned when they do not hear from their student immediately upon arrival. In most cases, not hearing from your student just means they have been caught up in the excitement of being in a new country, and they are following the arrival agenda of their program or university. Please be assured that the Center for International Programs will always notify parents of are any issues, in situations where we are made aware, and in a timely manner.

Culture Shock
After the initial excitement of the first few weeks, most students experience a temporary period of difficult adjustment, often referred to as Culture Shock. Parents should not be overly concerned by this stage as almost all students experience some form of culture shock during (and often after) an abroad experience. It is important to be patient, as your child learns to adapt. Most students during their semester or year abroad, adapt quite successfully, become more independent, learn a lot about themselves and another culture, and thrive while being away. However, if your son or daughter's unhappiness seems more serious than homesickness, parents should contact the Center for International Programs.

Calling Home
Although many U.S. telephone companies offer international calling cards and phone plans, these tend to be more expensive than if your son or daughter purchases an international phone card upon arriving overseas. Often, U.S. cell phones will not work from overseas, and if they do, are also very expensive. Depending on the country and the student's budget, purchasing or renting a cell phone abroad might be an option. Many students are now choosing to use their smart phones to call or text home for free by downloading WhatsApp or Viber. However, the person that they are messaging must also have the app and WiFi is needed in order to use this option. Most students participating in study abroad programs will receive further information about cell phones during their on-site orientation.

In addition, many students now use their computers to Skype with their friends and family back home. Once your student settles into a routine, you can establish a plan for regular phone or email contact. Deciding to call home every Sunday evening, for example, can give parents and students a chance to catch up and to share the experiences of studying abroad. However, we do not recommend daily communication, which may affect your student's cultural adjustment. Keep in mind the time differences and that it may be difficult for the child to call during daylight hours. Some students set up Web logs and write journal entries for parents and friends.

Should your student encounter problems while abroad, they should FIRST consult with the program staff abroad. On-site staff members are usually in the best position to help a student resolve any issues. THEN, contact the CIP Office.

Should we visit?
For Semester & Year Programs: Seeing your student function in a different culture can be one of the most gratifying experiences of raising a child. Knowing that your son has mastered the transportation system of London or your daughter can read a ferry schedule in Greek is heartwarming proof of your child's intelligence, maturity, and independence. If you decide to visit your student, however, keep in mind that his or her first priority is unlikely to be you. Study abroad programs require students to be in class or working on projects a large part of their time. Students also need to spend time with their classmates—they're all working through the same issues, and the support they provide to each other is invaluable. We recommend that you do not visit during the first few weeks of the program. Give your student time to adjust. Also, do not visit the last week of the program. Students need to finish up projects and be with classmates. Even if the program is relatively short, they most likely have made very close friends and will want to spend this time with each other.

If possible, time your arrival for a weekend or a break period so your student won't have to choose between you and classes. Be prepared for some "role reversal" while your child teaches you to get around and explains the monetary system to you. Do not rely on your student to take care of you throughout your visit. Once you've learned a few basics and spent a couple of days with your student, set out on your own. Your student may have suggestions for nearby places to visit while he or she is in class. If possible, take a side trip for a few days to allow your student to get back to coursework and friends.

Keep in mind that you may be on vacation, but your student is not. Spend enough time with your student to appreciate his or her accomplishments, but not so much that you detract from the student's program. By sharing the experience and living through the challenges of adjusting to a new country and culture, you gain appreciation of what your student has achieved, and it's something both of you can talk about in the months and years to come.

For Study Tours & Summer Programs: It is not recommended that parents and families visit during the course of the program, as the students' free time is limited. They are expected to attend all program itinerary activities whether it is class or a cultural site visit. If you must visit, you should do so after the program has ended. Coordinaton with the CIP office is needed several months prior to departure if your child is will be staying abroad after their study abroad program returns to the US.

Information you should keep
Below you will find the information that students should leave with their parents or a family member before departure:
- The name, address and phone number of the Center for International Programs at St. Joseph's University. See our contact page for details.
- The address and contact information for the campus abroad, as well as their phone number in housing. The emergency phone number for the on-site program director, which students receive prior to departure.This can often be found on the program's brochure.
- Names, addresses, phone, e-mail addresses, and fax numbers of all important SJU contacts for Financial Aid, Housing, Registration, Advising, etc. See Resources
- Copies of:
- bank account and credit card information, if they wish for you to access their accounts
- travel documents: passport, visa, traveler's insurance card
- return flight information.
Passports
In addition to the documents above, we would recommend that at least one parent have a valid passport. In the case of an emergency abroad you will most likely want to be at your student's side at a moments notice. Applying for or renewing a passport takes time. Rather than having to worry about paperwork during an emergency, it will probably be worth the peace of mind knowing you would be able to travel internationally immediately, if necessary. For passport information, please visit: http://www.travel.state.gov

ADDITIONAL INFORMATION TO HELP YOUR FAMILY PREPARE
For more information about Travel planning & tips, see our Resources page.