Study Tours
---
Each year, Saint Joseph's students have many opportunities to gain an international experience.
One way that students are able to do so is by participating in a SJU Study Tour. A Study Tour is a semester-long course taught on the SJU campus combined with a short-term period of group travel designed to introduce students to other countries & cultures by bringing to life what is being learned in the classroom.
SJU offers Study Tours in multiple disciplines and to several destinations each year in order to allow a variety of students to participate. The courses are taught and led by
SJU faculty
with logistical coordination provided by the Center for International Programs, a Tour Coordinator and a tour provider/organization.
The goal of a study tour is to offer students from any major who may not have the flexibility to spend a semester abroad the chance to learn more about other cultures and countries. We hope you will consider joining Saint Joseph's faculty as they lead our students abroad on these fascinating programs!
PROGRAM HIGHLIGHTS:
Meetings with business leaders, companies, NGO's, government organizations

In depth & hands-on learning bringing the classroom to life

Excursions to noteworthy historical sites

Pre-paid & pre-arranged accommodations for all travel

Travel with SJU faculty & classmates

?
For more information, please refer to the FAQ & Policy information below
---
FREQUENTLY ASKED QUESTIONS (FAQ's)
Q/

What is a Study Tour?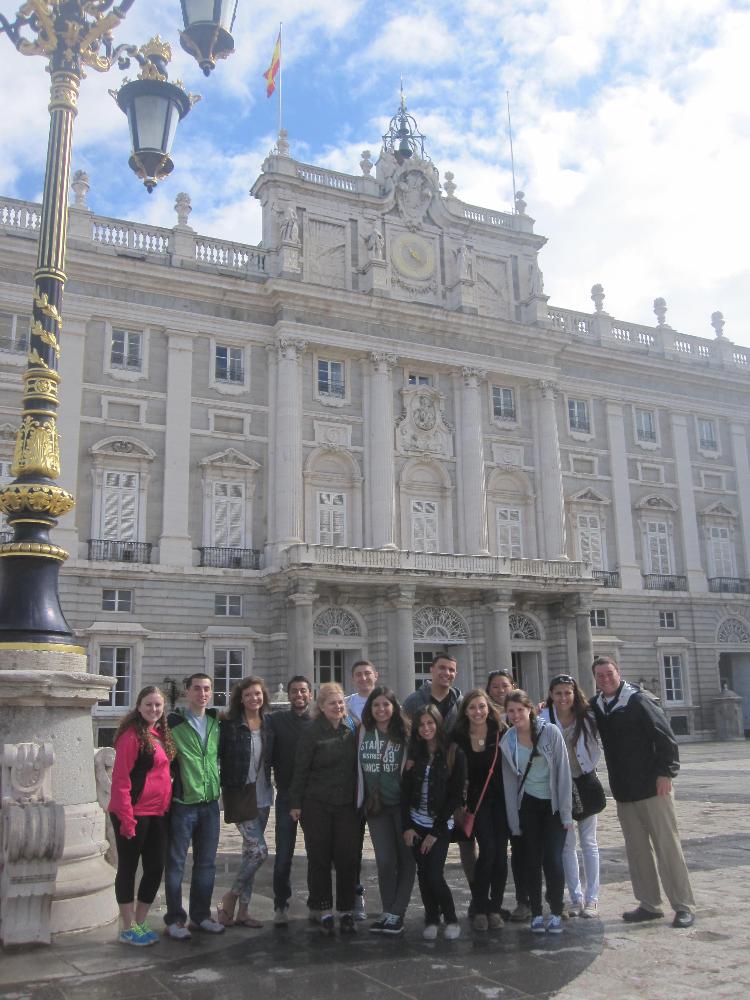 A Study Tour is an academic course offered by SJU faculty combined with a required short-term travel component. The course is held on campus, primarily during the spring or fall semester. Study Tours are designed to introduce students to other countries and cultures.
Who may enroll in a Study Tour?
Any student who is not on academic or disciplinary probation or deferred suspension may enroll provided that s/he has received academic advisor approval and has met course pre-requisites. Some Study Tours may have participation restrictions such as class year, course pre-requisites, or GPA.
When do Study Tours run?
It varies. Some tours are spring courses with travel over spring break, or travel in May. Others are summer courses with travel in May or June. Occasionally there are fall courses with travel in January.
What is the length of a Study Tour?
Most last 7-10 days, while others may last only a few days or even two weeks.
Can I participate in only the travel portion?
All students must take the Study Tour courses for credit. Students cannot enroll in a Study Tour course "for the travel portion only." This means you must register for the course for which you will get a grade and pay tuition. Once you register, your SJU account will be billed for both tuition and travel expenses.
Study Tour or Semester Abroad?
Students interested in gaining international experience may be unsure as to whether to pursue a Study Tour course or a semester, year or summer program. Here is a brief outline of some of the considerations. However, many students choose to have more than one type of international experience!
Courses: Semester abroad students must get pre-approval to take courses overseas so that they will transfer back to SJU for degree requirements. When enrolling in a Study Tour, a student is registering for an SJU class, taught by an SJU professor who will both meet with the group on campus before and after the travel and who will lead the group in classes or site visits during the Study Tour.
Immersion: Semester abroad is typically done during a fall or spring semester with the emphasis placed on the individual U.S. student enrolling in an overseas university or host program to take a full load of courses. Semester abroad allows students many months to immerse themselves into the host country, culture and language. A Study Tour is a short travel period designed for a group of students to visit one or several countries. Study Tours will have class meetings on site and students may engage in service learning or other experiences with host country nationals. Study Tours move as a group from site to site quickly, with lots of bus, train and airport transfers in a short time.
Housing: Semester abroad students may be able to live with a host family, with host country nationals, with other international students, or with other Americans in dorms or apartments (depending on their program). A Study Tour will typically have students living in dorms or tourist-class hotels.
Free Time: Students who live in a host country for a year, semester or summer, will have time outside of classes to explore host city, culture & country or neighboring countries as well. For Study Tour students, the focus is on the group visiting the sites associated with the course, so there is less free time for students to "do their own thing.
What is the cost of a Study Tour?
There is a program fee for all Study Tours that covers airfare, lodging, site visits, insurance, some meals, and more. Program fees vary based upon location and length of stay.
If the academic course is part of the student's full time semester load, there is no additional tuition charge. Any financial aid or payment plans will apply. If the Study Tour takes place during the summer or is an overload course, the student is required to pay summer or overload tuition as well.
What is the deadline to apply for a Study Tour?
Deadlines vary from program to program. Students applying for spring courses with spring travel will apply in the preceding fall semester. Students applying for fall courses with January travel will apply in the preceding spring semester. Please see each program for individual application deadlines. Please keep in mind that spaces are limited and will be reserved on a first-come, first-served basis. Some programs fill before the advertised deadlines.
How are students prepared to participate in a Study Tour?
Prior to departure, students complete reading and assignments that help them prepare for the upcoming travel portion of the class. They meet with their professor and classmates throughout the semester to prepare for travel. Students must also attend a mandatory Pre-departure Meeting and a mandatory Health & Safety Meeting by the CIP. Here, students receive important information on their itinerary as well as tips for traveling related to topics such as packing, currency, and much more. They also receive information on emergency procedures and health & safety issues among other topics. See the Health & Safety page for more information.
If I decide to withdraw from the Study Tour before it runs, will I get my money back?
If SJU cancels a tour, the $300 deposit is refundable. However, if the tour runs and a student decides not to participate, the deposit remains non-refundable. Depending on when a student withdraws their participation in the program, there will also be other program fee withdrawal penalties.
Are there any scholarships available?
Yes. CIP offers grants to several study tour participants. Students must be full-time degree-seeking undergraduates applying for one of the SJU Study Tour. Please see the
application
for more information. The grant committee will select students based on merit, need, and an essay. Students should also check with academic departments for any scholarships they may have available as well.
How can I pay my Study Tour program fee?
After the Study Tour program fee has been posted to the students' account, the program fee can be paid online just as one pays their regular tuition. You may also pay by check made payable to
Saint Joseph's University
and sent to the Office of Student Accounts. Please be sure to include the program in the 'memo' section of the check. The program fee can be paid all at once or in installments adhering to payment deadlines. If a student has any questions regarding Study Tour payments, they should contact the Office of Student Accounts at 610-660-2400.
---
Check out the event calendar for dates and times of specific study tour information sessions!
---
SJU SUMMER PROGRAM & STUDY TOUR APPLICATION POLICY
FINANCIAL STANDING
Students must also be in good financial standing with the University and cannot have any unresolved holds on their University account at the time of application and prior to the start of their semester abroad. The Office of Student Accounts will check financial standing at the time of application to confirm that the student's account is in good standing.

ACADEMIC AND DISCIPLINARY STANDING
Students who apply to study abroad programs must be in good academic and disciplinary standing with Saint Joseph's University. Students will be asked to sign a waiver (through their on-line application) allowing the Center for International Programs to check academic and disciplinary standing with the appropriate offices. Any current or pending discipline issue will be taken into account in evaluating a student's application to study abroad. Students must maintain good standing up through departure and for the duration of the study abroad program. If a student loses academic or disciplinary standing after being approved, the student will have their approval revoked and they will be responsible for any non-recoverable financial commitment that Saint Joseph's University has made on the student's behalf. While it is ultimately the student's responsibility to immediately inform the Center for International Programs of any change regarding their academic and disciplinary standing, the CIP will also receive periodic notifications from the Office of Community Standards.
---
| | |
| --- | --- |
| | |