This page is the brochure for your selected program. You can view the provided information for this program on this page and click on the available buttons for additional options.
Study Tour/Summer Program Coordinator
Role Description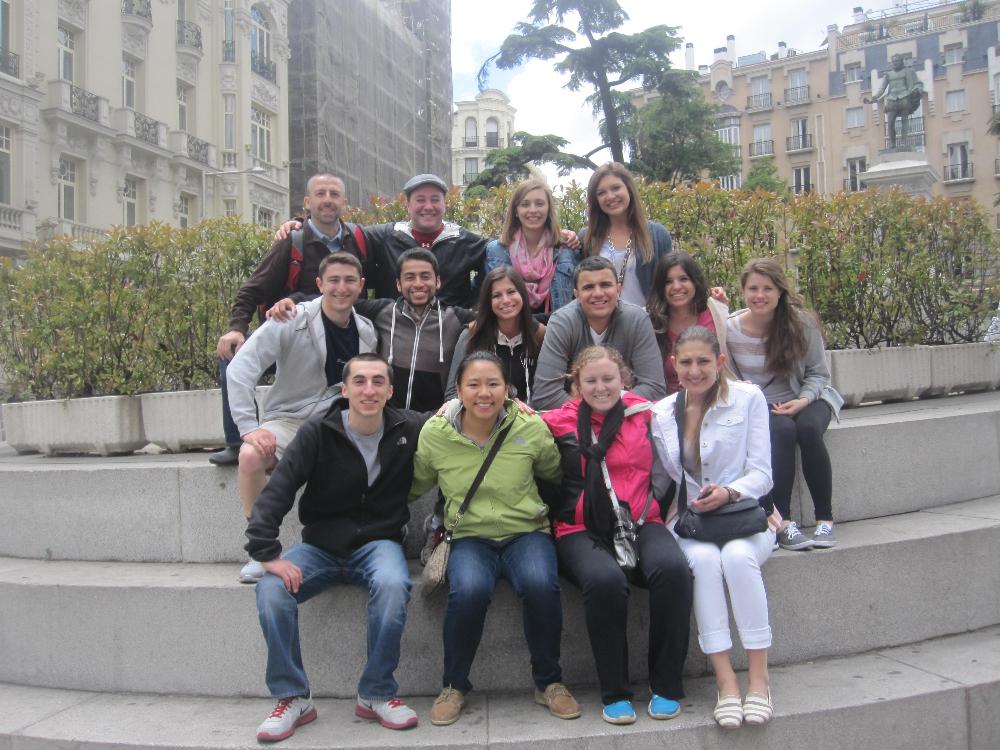 A Study Tour/Summer Program Coordinator plays a very important role in the success of SJU's short-term abroad programs. The Coordinator helps CIP and faculty with planning for the trip prior to departure. In addition, the Coordinator acts as the key logistics manager during the group's time abroad. The Coordinator works full-time for the students while on the tour/program since his/her expenses are paid directly by the students. A Coordinator must be an SJU employee who is qualified to lead groups of students in an overseas setting.

Benefits of being selected as Coordinator:
All-expenses paid travel with the group. The Coordinator's airfare, ground transportation, single room in hotels, meals & general day-to-day expenses as well as all museum-entrance fees and site visits are covered.

In addition to having his/her travel expenses paid, the Coordinator also receives a one-time $500 (gross) payment 2 weeks after returning and handing in a completed Travel Expense Report to CIP. Please note that Coordinators who are considered administrative faculty (as defined in the Faculty Handbook) are not eligible for this payment.

The opportunity to directly work with and help SJU students reach their goal of learning about another culture during this international experience.
Please note: A candidate's prime motivation for helping with the program should be to help the students with their learning experience. The Study Tours & Summer Programs are offered to students as learning experiences and not vacations, so the Coordinator must expect to be working for the group and not pursuing his/her own interests in the country(ies) visited. The Coordinator is not permitted to bring a spouse/significant other on the tour - nor have anyone meet him/her abroad.
---
Responsibilities/Qualifications
Group Leadership Skills - A Coordinator is expected to have experience leading student groups/activities/classes and should ideally also have international experience in the country(ies) on the itinerary (although not required). The Coordinator is the person who must act as enforcer of rules & regulations. If students on the tour/program trip are disruptive and not behaving appropriately, the Coordinator needs to warn the students of consequences and may have to decide (with in-put from Faculty, CIP & SJU) to send a student home. The Coordinator would then contact CIP to make arrangements for the student's return home and to accompany him/her to airport.

Foreign Language Skills - while not always necessary, preference may be given to those who can communicate in the host-country language.

Planning and Attending Group Meetings - The Coordinator will need to be able to attend information sessions and pre-departure meetings. Most meetings take place on-campus during Free Period or in the evening. It is important for the Coordinator to "get to know" the students prior to departure.

Collecting Paperwork from Students - the Coordinator will work with CIP to aid in the collection of necessary paperwork. Coordinators may be asked to distribute forms to the group, collect forms and then follow-up with students to collect "missing" or late paperwork. This willingness and availability to work with CIP & faculty prior to departure are essential qualities.

Logistics - Travel with the group on all scheduled activities from departure to return. The Coordinator is responsible for all of the following: meeting the students on campus or at the airport, flying with the group and then leading the group through all of the tour's logistics such as on/off buses, in/out of taxis, checking-in and out of hotels, arranging for group dinners, tipping drivers and tour guides, assisting students during the tour who are in need of medical or other type of help, liaising with the faculty to make decisions about what to do when obstacles arise such as bus/rail strikes, plane delays, lost wallets, passports etc

Financial Responsibility - Upon approval, a travel advance for both personal and group expenses will be direct-deposited into your SJU account 2 weeks prior to departure. You should reconcile this advance with CIP by completing a Travel Expense Report no later than 2 weeks upon return from the Study Tour/Summer Program.

Emergency Communication - In the event of an emergency while the group is traveling overseas - the Coordinator must know how to use the emergency cell phone distributed by CIP and must be in touch with all necessary parties to decide what the group will do in the event that plans must be changed. Once the group of Coordinators has been selected, CIP and the Travel Office will hold a training session. The purpose of this is to familiarize you with rules and regulations, safety and security procedures and common situations that arise with group travel.
Applications
If you meet these qualifications, please complete the Coordinator Application.

One of the questions on the application that you must discuss with your direct supervisor is whether you have permission to participate on the study tour/summer program for the duration of time away from work. Tours generally last 10 days to two weeks and Summer Programs are typically 4 weeks in length.

Coordinators should expect to use vacation time to participate.

Applications received this year and not selected for tours/summer programs running in the current year may also be considered for upcoming years.
---
1. Click 'Apply Now' above to log in with your SJU username and password and begin your application.
2. Terms: Please choose the Coordinator term.
3. Location: If you are applying to be a Coordinator for a specific Study Tour or Summer Program, please select the corresponding loction(s). If not, please choose 'Other' and a CIP staff member will add this information when it is known.
4. Dates: Please enter the dates if known. If not, please choose dates close to the anticipated travel. A CIP staff member will edit this information at a later date.
5. Complete all required submissions by the deadline

(there will be a checkmark next to each complete item). There is no 'Submit' button for the entire application. The system will prevent you starting or finishing any application once the application deadline passes.



Deadline
Coordinator applications are accepted on a rolling basis, as SJU Study Tours and Summer Programs occur at a various times throughout the school year.

Coordinator positions must be filled at different times. (For example, tours traveling over spring break must finalize a Coordinator by December, while Summer Programs often finalize Coordinators by February.)
Feel free to contact Mary Anne Kucserik with questions at x3477 or to complete an application any time.
Term

Year

Decision Date

Start Date

End Date

Coordinator

2016

Rolling Admission

TBA

TBA


** Indicates rolling admission application process. Applicants will be immediately notified of acceptance into this program and be able to complete post-decision materials prior to the term's application deadline.