Application Procedures
Overview
The Center for International Programs (CIP) is proud to offer our students a convenient, easy to use on-line application for study abroad. You will only be able to apply to one program at a time, so it is important to research all options thoroughly prior to the opening of the application cycle. Application requirements will vary slightly depending on your program, but below you will find a general example of a semester abroad application.

Timeline
Please note that applications for fall semester abroad open in mid-January, while applications for spring semester abroad open in mid-August. Deadlines will vary by program, but early applications are strongly encouraged. Per the Semester Abroad Policy, a limited number of completed applications will be approved each semester on a first come, first serve basis.

Process
Once your application cycle is open, you will begin your application right on the CIP website by using our Program Search feature, visiting the Program Brochure page for the program you are pursuing, and clicking the red "Apply Now" button. SJU students will be prompted to log in with their regular, SJU username and password. Non-SJU students should follow the prompts to create a new registration. Once you are logged in, you will see an Applicant Home Page and a link to your application. That link will take you to your application checklist: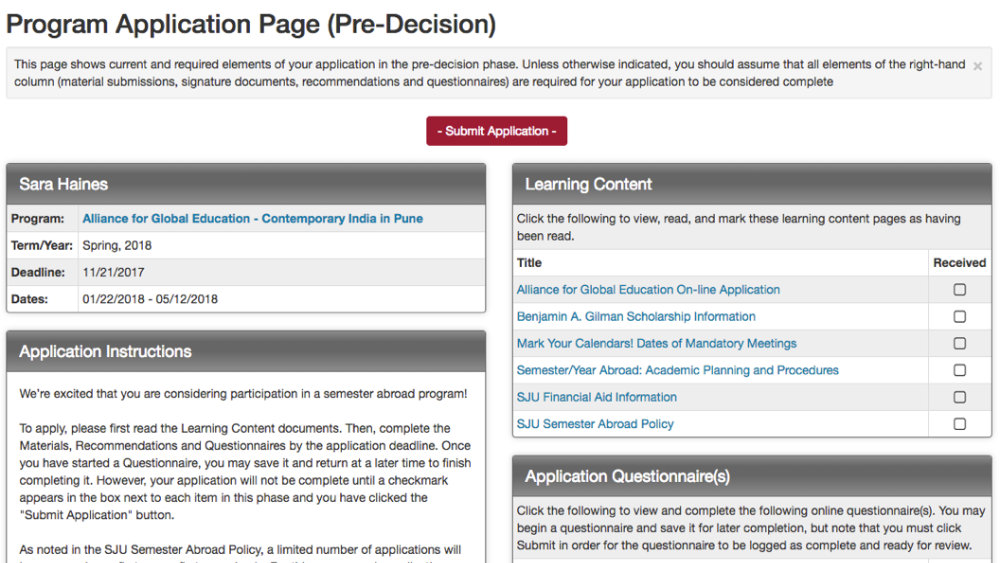 Application Instructions will be provided to the left of your screen, as shown above. The rest of the application is divided into the following sections:
Here, information is provided about mandatory meetings, policies, and your program's separate application requirements, if necessary. Each item must be viewed and marked as read.
This includes the required CIP advising appointment and approval to study abroad as a senior. (If you will be studying abroad as a senior, you will be prompted to complete an "Approval to Study Abroad as a Senior" form.") Petitioners will also be able to access the Course Approval Form in this section.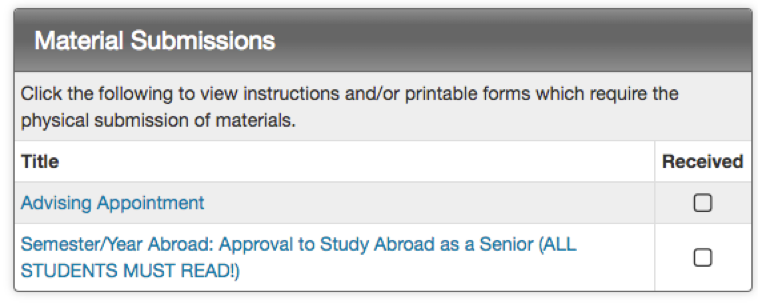 Each applicant must answer four short essay questions and provide information about their preliminary course plan. (Petitioners will have one extra essay requirement.) For each essay question, a space will be provided to type a 1-2 paragraph response. Questions cover topics such as your overall interest in study abroad and your prior international travel experience. Students should answer these questions honestly and proofread before submitting!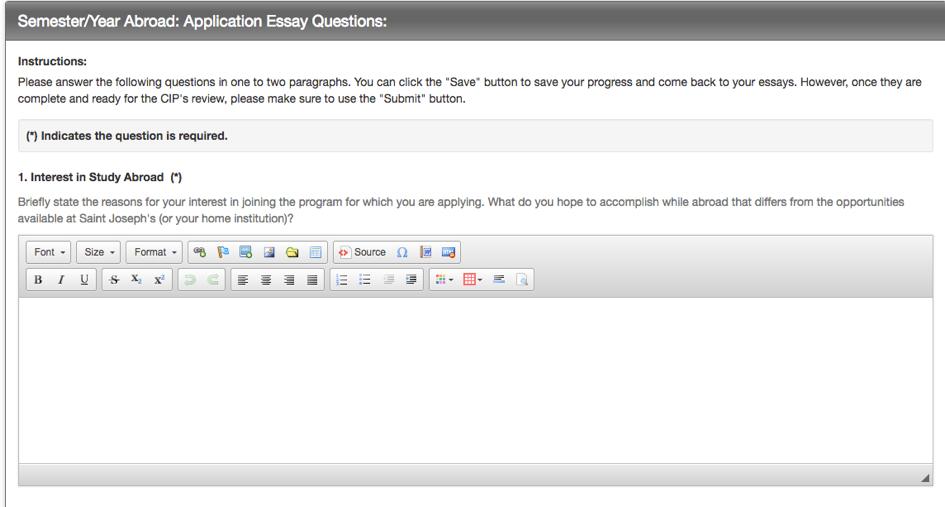 ?These must be reviewed carefully and signed electronically.


Two faculty recommendations are required from professors who have taught you in class. Petitioners and students applying for a full academic year are required to obtain a third recommendation from their Academic Advisor. As shown in the screenshot below, you will have the option of printing a form to give to your recommenders or you may provide their name and email address, and an electronic form will be sent to them automatically through our system (preferred).