Parent Advice
We asked parents what study abroad advice they would give to parents currently going through the process and they answered! Check out their responses below for parent specific advice on studying abroad.
Encouraging Your Student
"Let them show you how much they want to go by doing all the applying and preparing. It is so worth it!"

"Take advantage of everything offered by the program."

"

Encouraged especially in the first few months when language is difficult, and when classes can seem overwhelming."

"Reminded that studying abroad is broadening, and that includes sometimes feeling uncomfortable, but that the reward is more than worth it."

"

Embrace the experience and to try to immerse in the culture as much as possible."

"We knew that if we committed to letting him go on this trip we could not be overbearing parents and force constant communication or requests of him while away so that he could foster his independence."

"

Encourage them to meet new people and not just American students. Learn the language, be polite and respectful to the natives of that country. Don't be afraid to make mistakes."
Communication
Parents told us they communicated with their student via:
Skype

Facetime

Facebook phone

Email

Facebook Messaging

Viber

WhatsApp

Cell phone
Overall Advice
"Talk to as many parents and students as you can that have taken advantage of the program. It makes it a lot easier if you know every step before it happens and SJU really did a great job outlining the trip."

"Start an account freshman year at your bank to save for it-there are several up-front costs that need to be factored into account."

"The student needs to maintain a GPA to be accepted into the program-something they need to keep in mind especially freshman year when it is important to get into good study habits."

"Take the opportunity and cherish it! Do not fear the experience and help your child see the journey as an opportunity to learn new things."

"They form quick friendships and develop an interest in other cultures. Become enthusiastic about learning about the different cultures."

"It is hard to imagine putting your child on that plane and letting them go so far away but they have already experienced the separation by attending college, they are ready for that next step."

"Discuss how they will handle homesickness, adversity, diversity of cultures."
Why It's Worth It
Upon return, parents see many new qualities and positive changes in their students:
"Broader global view."

"Extremely enthusiastic about future travel."

"More confident."

"Increased maturity level."

"More independent person."

"Less self-absorbed."

"Increased dedication to major & career."

"More aware of the similarities between people of all cultures, and also aware of the sources of our differences - policital climate, history, etc."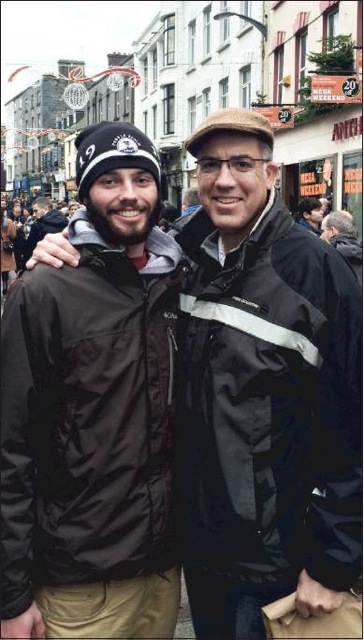 READ MORE ABOUT SJU MARTY FARRELL'S VISIT TO GALWAY, IRELAND TO VISIT HIS SON DURING THE FALL 2015 SEMESTER:
Father-Son Visit in Galway F15.pdf