Proposals


Saint Joseph's University and the Center for International Programs are pleased to offer our students SJU faculty-led opportunities around the world. Whether you are a first-time leader or a seasoned veteran of our short-term programs, we are glad to see that you are considering leading a group of Hawks abroad! Please use the links below to navigate the proposal development, timeline and application process: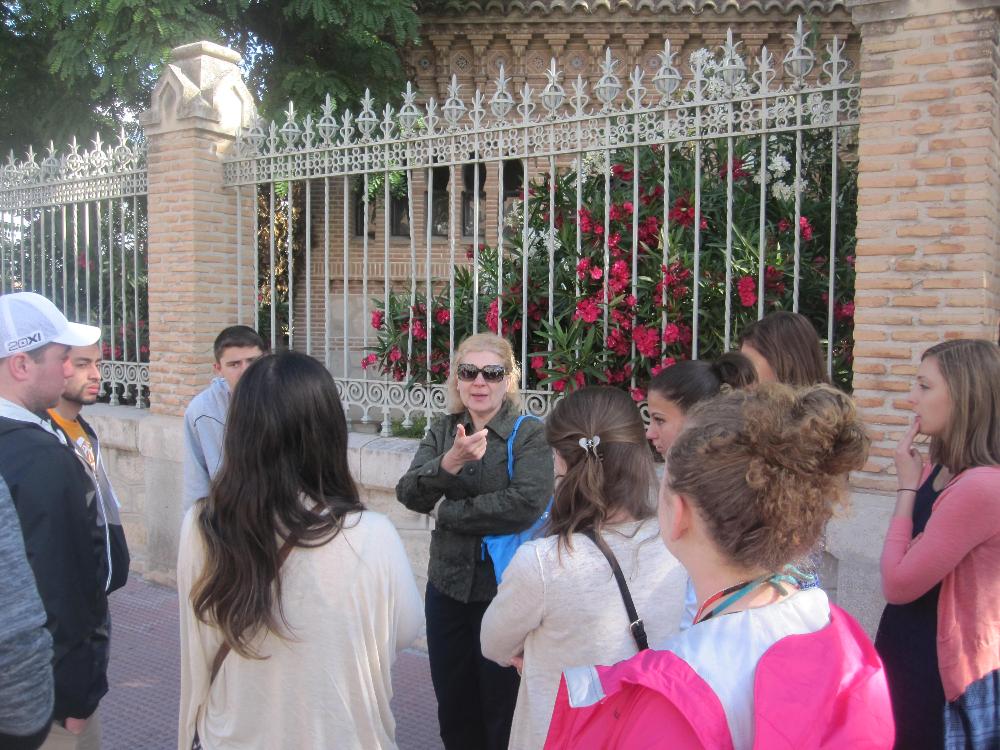 SJU has a long history of leading short-term, faculty-led study abroad programs. We began our very own SJU Study Tours in 2002, as leaders in the field of international education. Today, we support 150+ students annually through these international, academic opportunities.

During the 2017-2018 school year, 126 students (78 undergraduate & 48 graduate) traveled abroad through SJU Study Tours & Summer Programs. We would not be able to serve this student population without the passionate contribution of our faculty leaders.
---
Choosing between a Study Tour or Summer Program
SJU Study Tours are a semester-long course taught on campus typically during the spring semester combined with a short-term period of group travel designed to introduce students to other countries and cultures by bringing to life what they learn in the classroom. Logistical coordination is provided by the Center for International Programs, a Tour Coordinator and a tour provider/organization.

SJU Summer Programs are designed to introduce students to other countries and cultures by immersing them in the country. The one-month courses are taught and led by SJU faculty and are offered each summer in locations where we have established a 'home base' in China, Greece, Rome, and South Africa. Logistical coordination is provided by the Center for International Programs, a Summer Program Coordinator and a program provider/organization. The goal of a Summer Program is to offer students from any major who may not have the flexibility to spend a semester abroad, but want a longer immersion than a Study Tour.
---
University Policies relating to Faculty-led Programs
Please review the Study Tour and Summer Program Policy, the Spouse/Child Participation Policy, and the Interim SJU International Travel Policy before submitting a proposal.
---
Marketing & Feasibility

When marketing faculty-led programs to students, it is helpful to keep in mind why some students choose this type of program. Students who decide to participate in study tours or summer programs likely to do so for one or more of the following reasons:
The desire to go abroad with a SJU faculty member. The faculty member may have a reputation or teaching style that attracts students. Students may be more comfortable going abroad with someone they know and have an established relationship with and who they view as a representative of SJU abroad.

Interest in a particular course/region. The assurance that credit for an exact course will be received abroad is a particularly attractive feature of SJU study tour or summer program.

Length of time. For many this is an excellent opportunity to cover coursework in the summer and not "miss" out on a semester on campus. Summer is a naturally appealing time for many students to study abroad and being away for 2-6 weeks seems more manageable for many students. For those who have not traveled far from home, this is an opportunity to whet their appetite.

The appeal of a SJU-sponsored program. Some students and families prefer the familiarity and feeling of security that comes with a study tour or summer program because they are assured the same high quality of teaching they would receive on SJU's home campus and the support of multiple SJU offices throughout the program cycle.

Pre-planned logistics. Many students want the independence of being abroad but may find an independent immersion experience daunting. The current U.S. student culture increasingly leads to student selection of highly-structured programs.

Key Elements to Create and Maintain Successful, High-quality Faculty-Led Programs:
Unassailable academic integrity

Integration into the curriculum

Affordable program design

Good pre- departure orientation and preparation

Faculty buy-in and participation

Interaction with the host community

Incorporation of local language

Opportunities for cultural enrichment

A safe and secure environment

Competent, experienced staff

Opportunities for guided reflection

Balance in program activities

Maintenance of a strong, healthy group dynamic

Opportunities for debriefing, reflection, reintegration upon return to the campus
---
Step 1: Submit a Proposal (February)
Meet with CIP for exploratory planning

Research location, topics, vendors to support program

Acquire GEP approvals with committee, if needed

Review CIP and University Policies

Submit Proposal by 2/15 at 11:59PM
​Faculty will be notified of decisions by early May, pending Department Chair, Dean, & Provost's Council approval
Step 2: Program Implementation (May - August)
CIP requests (3) proposals from outside vendors or works with faculty with on-site providers

Faculty finalize itinerary and arrangements with CIP & vendors

CIP & faculty select vendor; create budget for student program fee

CIP reserves Group airfare
Step 3: Student Marketing & Recruitment (August - November)
Faculty attend CIP Annual Study Abroad Fair to represent program

Plan class visits, departmental and colleague outreach and student information sessions with CIP

Correspond with interested students, develop formal syllabus and class meeting time (study tours only)

Review CIP online application brochure for marketing and information

CIP online application opens
Step 4: Application & Administration (November - March)
Grant Application deadline: 10/15 or 1/15; Committee meets and grants are awarded

​Application deadline 11/15 or 2/1 - students must submit a $300 non-refundable deposit

CIP completes application review (w/ faculty approval if needed) and sends acceptance notifications

Students "Commit to Participate"

CIP notifies Registrar of class to be created; register students

CIP notifies Office of Student Accounts of Program Fee & tuition to bill students
Step 5: Pre-departure Preparation (January/February for spring break travel, April & May for summer travel)
CIP makes final travel arrangements, payments to vendors, requests University cell phone, etc.

Faculty & Coordinator attend University-required Risk Management Training for Group Travel

Students attend Health & Safety meeting

Faculty & Coordinator meet with CIP to review travel advance, itinerary, on-site preparation, etc.
Step 6: Group Travel
Faculty & Coordinator lead on-site orientation; communicate with CIP as needed
Step 7: Wrap-Up (Upon Return)
Faculty & Coordinator complete University-required Business Expense Report within 10 days

Students submit online evaluation

Faculty & Coordinator complete Final Program Report & attend debrief meeting with CIP

Faculty submit grades to Registrar
---
Resources for Program Development
Forum on Education Abroad – Standards of Good Practice for Short-Term Education Abroad Programs
These short-term program standards are designed to encourage discussion between education abroad professionals and others on campus and within organizations about program planning and management. Like the Standards of Good Practice, they provide a means to assess and improve programs by ensuring that they include those essential elements that will maximize students' learning and personal development while assuring their safety and well-being.

Forum on Education Abroad – Code of Ethics for Education Abroad
The purpose of this Code of Ethics is to guide decision-making by those in the education abroad field who aspire to provide services in accord with the highest ethical and professional standards, with the ultimate goal of ensuring students' international educational experiences are as rich and meaningful as possible. This Code is not a substitute for specific institutional and organizational policies and practices, but rather is intended to inform their development and to encourage ongoing reflection on the importance of ethical decision making and conduct.

Forum for Education Abroad - Alignment and Accountability in Education Abroad: A Handbook for the Effective Design and Implementation of Qualitative Assessment Based on Student Evaluations
In the interest of encouraging varied and complementary assessment efforts, this handbook offers strategies for the development of meaningful qualitative assessment questionnaires to be completed by students during and/or after their term of study abroad.

Embedded Education Abroad Faculty Toolkit – Developing and Implementing Course-Embedded Faculty-Led International Programs
The Toolkit offers teaching strategies with the goal to improve instructional quality and the overall student experience in embedded programs. It complements university administrative and logistical services by offering a portfolio of tested and applicable instructional strategies that leverage the embedded international travel component of these courses to optimize academic learning and the development of global citizenship.

NAFSA
NAFSA: Association of International Educators is the world's largest nonprofit association dedicated to international education and exchange. NAFSA's 10,000 members are located at more than 3,500 institutions worldwide, in more than 150 countries.

IIE
An independent not-profit organization founded in 1919, IIE is among the world's largest and most experienced international education and training organizations. IIE is committed to delivering program excellence to a diverse range of participants, sponsors, and donors.

Peace Corps - Culture Matters Workbook
This cross-cultural training workbook, Culture Matters, was specifically developed by the Peace Corps to help new volunteers acquire the knowledge and skills to work successfully and respectfully in other cultures.

Global Oneness Project
This education program offers tools to become deeply engaged with the issues and ideas raised in the Global Oneness film and media content. Through these materials, educators may develop effective ways to introduce global themes, environmental issues, and multi-cultural awareness into their established course curricula.

Better Abroad
A free action-oriented resource for individuals and organizations facilitating programs abroad that encourages thoughtful program design and reflection. It provides resources to encourage shifting the focus from quantity to quality of intercultural interaction.

NAFSA Intercultural Activity Toolkit
A collection of intercultural activities, intended for administration by post-secondary level faculty and staff, this toolkit provides hands-on resources that can be easily duplicated and utilized by individuals and groups seeking to internationalize the campus.

Bibliography on Intercultural Training, Theory and Research (2010)
Compiled by Vija G. Mendelson, Shyanmei Wang, and Katherine N. Yngve, this annotated bibliography provides an overview of key resources on intercultural competence, organized into the following four categories: Intercultural Training Resources, Intercultural Theory, Intercultural Research and Outcomes Assessment, and Journals and Online Resources.
---
15-Feb | Faculty Proposals Due online to CIP
May | CIP notifies faculty of proposal decisions
Sept | Program Fees finalized; campus promotion begins with Study Abroad Fair; applications open
15-Oct | CIP Grant Deadline
15-Nov | Study Tour Application Deadline
15-Jan | CIP Grant Deadlines
1-Feb | Summer Program Application Deadline
---
Please use the links below to submit an online proposal:
Study Tour Proposal Application
SJU Summer Program Proposal Application
Please keep in mind the deadline to submit proposals is 11:59pm February 15th. Proposals will not be accepted after the deadline.
---
Please contact the CIP at studyabroad@sju.edu to learn more.